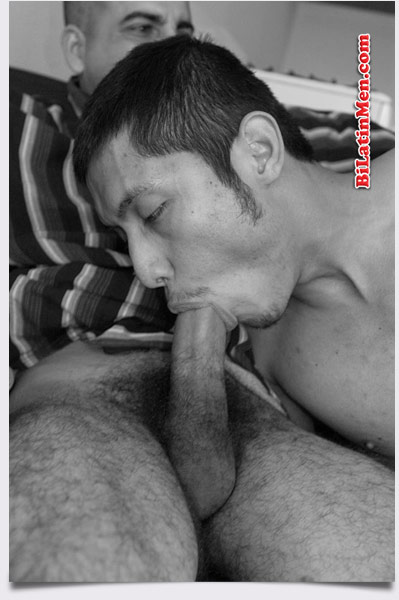 Hello NakedPapis,
I love this site....
Well, here's my story. I was 20 years old at the time. I'm 22 now, Mexican, light skinned, dark hair, hazel eyes, goatee, 5'9", 180 lbs., football player build with a 7 inch uncut thick pito.
I was at a kickback with a few friends, and my pelon friend who was 20 at the time as well. He's a dark skinned Mexican, mustache, brown eyes, 5'8" and 150 lbs. I'm on the DL, and I didn't know he was too.
But like I was saying we were at a kickback in the garage, which was a motel room at the time, and we all had been drinking.
Slowly but surely everyone had left except one of our homegirls who went 2 sleep on the bed and also another of our friends had passed out drunk on the couch.
ME and the homie had got 2 talking and it was cold so we got closer to each other to keep warm. I was chilling, finishing my beer, and here my pelon friend just started rubbing my pito and started jacking me off.
He then continued to give me head and soon we were both in the 69 position.
After a while he got on the floor and spit on his hand and rubbed it all on his culo. He told me to fuck him and I didn't hesitate and instantly ate his ass out and fucked him without a condom.
He kept moaning and telling me to fuck him harder. I think he likes it rough. We continued to handle in the middle of the door with our friends passed out.
After fucking him for a while on his back and with his legs up on my shoulders, I moaned fucking loud and told him I was going to cum, but I just couldn't pull out and came inside him.
He then saddled me and jacked off on my stomach. He busted a huge load. We made out for a lil bit and just passed out together.
Surprisingly we woke up on time to make it seem as we had done nothing and not let our friends catch us.
Hope you guys liked my story haha. I'll try writing more stories soon.